Educational School Tours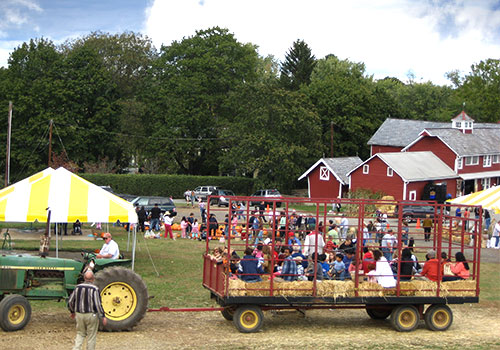 Kids and teachers alike enjoy this fun and educational tour which includes one of the few remaining Cider Mills in the state of New Jersey. The tour begins at the Melick Cider Press located one mile from Route 78, exit 24, in historic Oldwick. Our guide will demonstrate the old fashioned cider press, and each student will receive a sampling of our fresh cider.
The guide will also discuss the history of our Hunterdon County farm, which has been in the family more than two centuries. Students will also walk through the orchard to learn about various apple varieties, and each will be allowed to pick a few apples and select a small pumpkin before climbing aboard a special hay ride through the orchard.
What's Included:
Cider Making Demonstration
Historical Overview of Family Farm
Apple Picking-Three to Take Home

Hay Ride
Small Pumpkin
Cup of Fresh Cider
Tour Admission:
$6.95 per student.
Teachers are free but do not receive apples or pumpkins.
1 adult per every 15 children.
Minimum of 15 children per tour group.
Please call for groups with special needs.
Our tours are geared towards Pre-K through 3rd grade, but can be customized for older children upon request. Additional adults and siblings are welcome. While they don't participate in the tour, they are welcome to pick apples on their own.
Make A Reservation:
Tours are available from September 14th through November 6th, at the following times:
9:30 a.m.
10:45 a.m.
1:00 p.m.
1:30 p.m. .
Please allow one hour for your tour. (Special times are available upon request.)
You may call us at (908) 439-2318 or complete the online form below to make a reservation for you field trip.
Make a Reservation Online