About Us
Melick's Town Farm is the largest apple grower in New Jersey with 25,000 apple trees and 5,000 peach, nectarine, plum and pear trees. Our ochards cover 120 acres of our 650 acres of land.
The farm is run by 10th generation farmers, siblings Peter, Rebecca and John Melick with the continued support of their parents George and Norma.
We have traced the family tree back to the period between 1725 and 1735 when Johan Peter Moelich arrived in the area with his two brothers.
Find out more about the history of the Melick family as printed in General Store magazine, Autumn 2001.
Our Farm Locations
Our farm actually has three locations where we grow fruits and vegetables.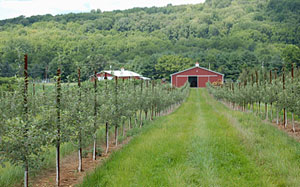 Melick's Orchard in Califon, New Jersey
The homestead is in Oldwick, New Jersey, approximately 35 miles west of Newark. Our Pick Your Own Strawberries and most of the vegetables are grown at this location, along with our beautiful, Pick Your Own Flowers Garden.
Just up the road, we also have approximately 50 acres of orchard in Oldwick at the location of the Cider Mill and Orchards. This is the primary location for our school tours, and much of our fall family activities.
Still further north, in Califon, New Jersey, we have our Califon Orchards, with 200 acres of peaches, apples, and pumpkins growing on the vine. This location also offers Pick Your Own Peaches, Pick Your Own Pumpkins, and Pick Your Own Apples.
The Melick's Farm Legacy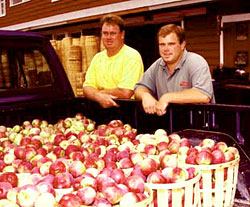 Peter and John Melick
According to George, "all of my ancestors in this country were born, baptized, married and buried within five miles of Oldwick." According to George, the family has survived droughts, crop devastations, high land prices, and hard times because they have always been willing to keep up with the times.
"My early ancestors were tanning hides for their own clothing, and for sale," says George. "They learned by trying things, and by watching others. Today, we learn a lot by email. We get weather faxes at 11 at night with satellite forecasts warning us of possible problems. We grow with the times."
Nearly 300 years have passed since Johan Peter Moelich first set foot in this county. Remarkably, nine generations later, one thing at least is still the same: Come sunrise, its business as usual out on the farm.
Melick's Town Farm Accolades
New Jersey and National Winner of Outstanding Young Farmer Award
2011
John Melick
New Jersey Winner of Outstanding Young Farmer and National Finalist
2007
Peter Melick
Finalist in NJ Family Business Award
2003
Melick's Town Farm
NJ State Horticultural Society, Outstanding Fruit Grower Award
2002
George Melick
NJ Farm Agriculture Society Marketing Award
1999
Melick's Town Farm
Featured by Good Morning America in Most Amazing Families Series
The Melick Family
Winner of Outstanding Farmer of 2017 by the Garden State Culinary Arts Awards
Melick's Town Farm