Pick Your Own Apples
At Melick's Town Farm, we are the largest fruit growers in New Jersey with more than 20,000 apple trees! By planting lots of trees and a wide varieties, we have tasty, crisp apples from mid-July clear through December. Our You Pick Apples are available through the 2nd week of November.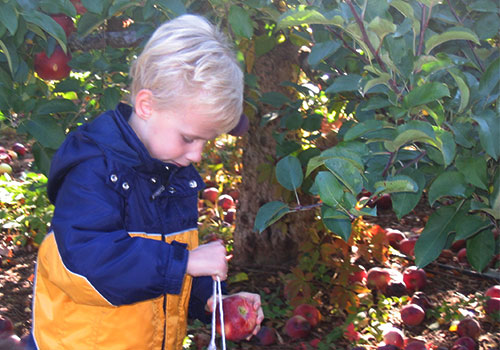 Varieties include:
MacIntosh
Golden Delicious
Red Delicious
Liberty Winesap
Granny Smith
Dandy Red
Honey Crisp
Molly's Delicious

Rome
Jonagold
Mutsu
Cameo
Macoun
Winesap
Asian Pears
Braeburn

Cortland
Fuji
Gala
July Red
Empire
Red Free
Blondee
Pink Lady
Fresh Apple Cider
We also make our own apple cider, pasteurize it using ultra-violet light so as to not disturb that delicious flavor, and sell our cider at all our markets and well as many other stores in New Jersey.
Fall Family Fun in the Orchard
Bring the entire family —and don't forget your camera—for a very special, fun filled day in the orchard. We have Pick Your Own Apples at both our Califon Orchards and at the Cider Mill and Orchard location in Oldwick.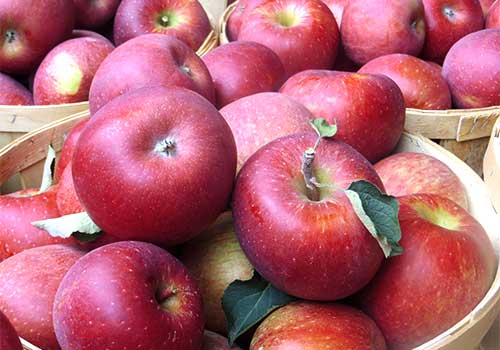 Most weekends in September and October, we also have free wagon rides into the orchards in Oldwick, and horse drawn wagon rides at the Califon Orchards.
You'll be dropped off to make your selections and take your family photos, and then the wagons will return to pick up you and your apples and return to the check out stand. Please feel free to call ahead to check our exact schedule.
If you come later in the fall, you will also want to select the perfect pumpkins from our fields and displays. We do have Pick Your Own Pumpkins from the field in Califon.
We also have a nice selection of fall decorations, mums, Indian Corn, hay bales, and corn shucks for your home decorating.